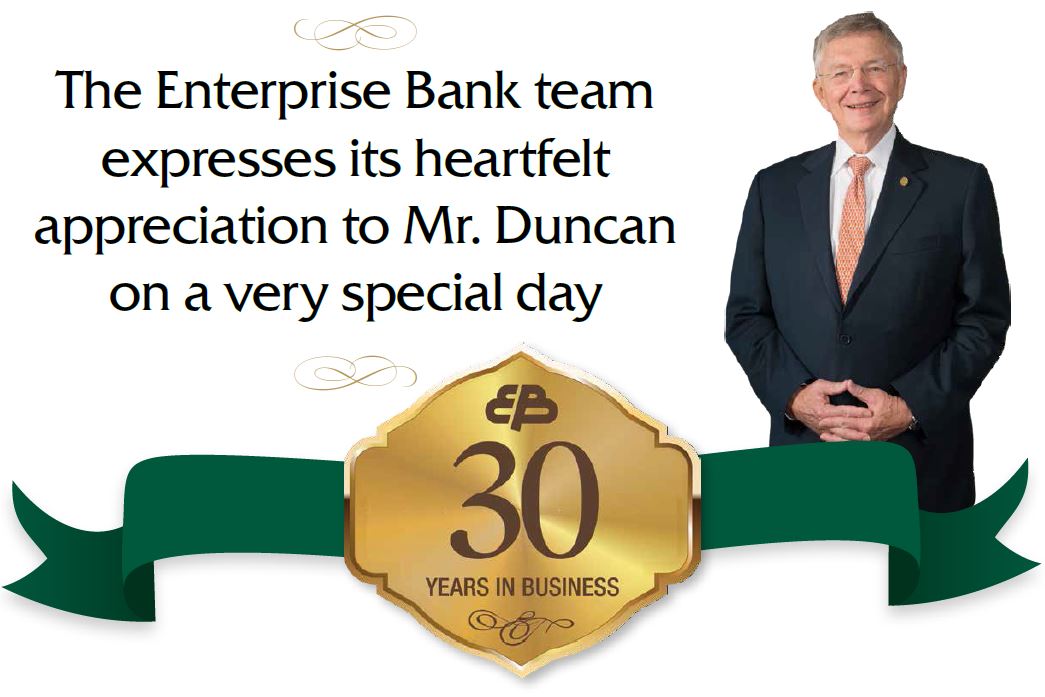 Thirty years ago, on February 5, 1988, George Duncan began the process of forming Enterprise Bank, which opened for business on January 3, 1989. Below is a heartfelt message of gratitude on behalf of the Board of Directors and 515 Enterprise Bank team members in celebration of this milestone and, more importantly, in recognition, admiration, and appreciation of the remarkable man George is.
---
Dear George,
Thirty years ago, you were an entrepreneur with a dream and passion to create a new kind of bank, one that deeply values the entrepreneurial and community spirit and stimulates the local economy by creating new businesses and jobs, as well as providing a workplace where team members grow and prosper. Against the backdrop of a severe economic depression and with great personal and professional risk, you inspired a group of local visionaries to establish Enterprise Bank. You were then, and remain today, committed to the dream of an independent, locally owned and locally managed community bank, founded on the core values of integrity, community, excellence, teamwork, and professionalism.
Under your leadership during Enterprise Bank's first 29 years, Enterprise Bank has grown from a single office location in Lowell to 24 branch offices in 19 communities throughout the Merrimack Valley, North Central Massachusetts, and Southern New Hampshire. We have grown from 19 team members to the 521 Enterprise family members we have today. We have reported 113 consecutive profitable quarters and 28 consecutive profitable years. Along with our growth, at heart we have always remained—and always will remain—a genuine, independent community bank where we measure our success by individual relationships, not transactions, and by the profound impact we make in our communities and in the lives of our customers.
You have brought together our Enterprise family, united by our core operating principles, a deep sense of purpose, customer focus, the pursuit of excellence, and our commitment to community service. You have created a culture where we trust, respect, and care deeply for the people we work with, and where we take great pride in the work we do. You have given young professionals a place to build a career, investing time and money in our future and serving as a mentor to a new generation of leaders who are inspired to learn and grow to our greatest potential. It is because of you that our team members have earned Enterprise Bank recognition as the number one place to work among large-sized companies in The Boston Globe "Top Places to Work in Massachusetts."
Your commitment to the vision of Enterprise Bank has a profound impact on the businesses and individuals who bank with Enterprise, as well as on the countless non-profit and cultural organizations that Enterprise supports through generous contributions of financial support, employee hours, and leadership. Enterprise Bank has played a significant role in the renaissance of Lowell, continually reinvesting into the community's businesses and neighborhoods, and preserving and promoting Lowell's extraordinary cultural, arts, and immigrant communities. Like a true-life George Bailey, it is simply impossible to measure the number of lives you have influenced and improved through your vision.
On behalf of the Board of Directors and the grateful team members of Enterprise Bank, we congratulate you for turning your dream 30 years ago into a reality and for helping so many others do the same. We extend our deepest appreciation for everything you have done to create a better world for our customers, our team members, and our communities. For this, and for your continued leadership and vision as we move into our even brighter future ahead, we say: