Our Diversity Equity and Inclusion Value Statement:
At Enterprise Bank, people and relationships come first. We encourage and foster a culture of diversity, equity, and inclusion, where everyone feels valued and respected. We are committed to a caring workplace that recognizes the importance of making a meaningful, positive difference in the lives of our team members, customers, and communities.
The mission of Enterprise Bank's Inclusion Council is to celebrate and promote awareness of personal identity in the workplace, identify equity gaps in order to help resolve them, and strengthen everyone's sense of belonging within our Enterprise Bank family. The Inclusion Council is committed to helping influence and impact positive change towards social justice and inclusivity within communities we serve.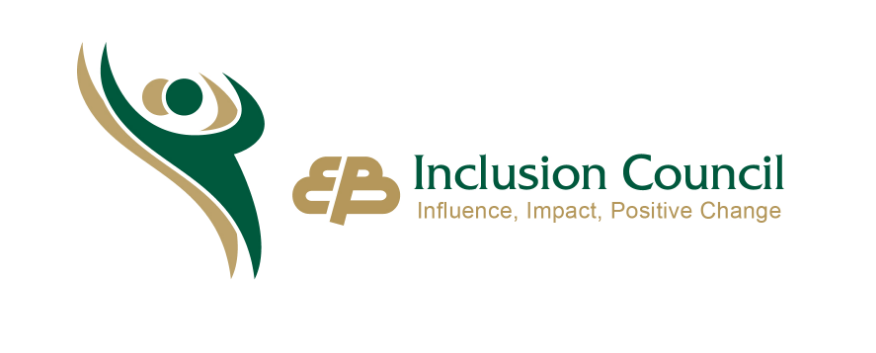 ​
Recent Newsletters* Created By Our Inclusion Council Team:
*This content was originally created by a rotating group of Enterprise Bank team members who have volunteered to create this newsletter for our team to enjoy. However, we are happy to share these newsletters for our Enterprise Bank community to engage in wider conversation and share inspirational stories and ideas.
---
---
What does Inclusion mean?
Diversity advocate Vernā Myers said, "Diversity is being invited to the party. Inclusion is being asked to dance." (Another person added, "Equity is giving the opportunity for the attendees to choose the music.")
Inclusion means that all people, regardless of their abilities, disabilities, or health care needs, have the right to be respected and appreciated as valuable members of their communities.
Inclusion in the Workplace (from the Society of Human Resource Management) is "The achievement of a work environment in which all individuals are treated fairly and respectfully, have equal access to opportunities and resources, and can contribute fully to the organization's success."
Inclusion is defined by Merriam-Webster as "the act of including; the state of being included."
Hear what Security Officer, Prema Nagathan, has to say about diversity at Enterprise Bank.
---
Veterans Day 2021
Enterprise Bank is proud to honor and support the brave men and women who served our country in the Unites States armed forces. To show our appreciation we will be donating $100 on behalf of each of our Enterprise Bank military veterans to a non-profit organization of their choosing. Click here to see our Enterprise Bank veterans.
---
Protected Classes

A protected class is a group of people with a common characteristic who are legally protected from employment discrimination based on said characteristic. Examples of protected classes are:

Age
Ancestry
Criminal Records
Disability
Gender Identity/expression
Genetics
Marital Status
Military personnel
National origin
Pregnancy
Race or color
Religion
Sex/Gender/Transgender
Sexual orientation
Veteran Status
Equality, Equity, and Justice Resources

Important Information - When you click on these links, you are leaving our website to visit another website that may have different privacy practices and levels of security. The site owner is responsible for the privacy policies on their site, so please review them accordingly.

Americans with Disabilities Act Information and Resources

Anti-Agesim Resources

Anti-Racism Resources

LGBTQ Resources

Native American and Indigenous Justice Resources
Our Team Member Stories

To submit your story, please email socialmedia@ebtc.com:

Join the conversation! We would love to share more stories from within the Enterprise Bank communities we serve. If you have a story to share, click here to email us.