With Enterprise Bank's Mobile Banking Apps, you can enjoy 24/7 access to your banking accounts. All of our apps are free and immediately available for download.
View account balances
Review transaction history
Deposit checks*
Manage card security and activities
Transfer money between your Enterprise Bank accounts and your accounts with other financial institutions using our External Transfer service
Pay bills from your checking account using our Bill Pay service
Send and receive person-to-person payments using our Zelle® service
Make payments to loan account or cash reserve account
Find a branch or ATM
A Secure Banking Environment
Accessing your accounts with our Mobile Banking Apps are easy and secure. When you log in with your smartphone, you are accessing the same multi-layer security that's used when you log in from your desktop computer. We confirm your credentials along with the device you are using. This strong approach to security helps to protect you against fraud.
Download or Update the App
Click one of the links below from your mobile phone to download the Mobile App to your device.
SMS Customer Care
Staying up to date with your bank is as easy as sending a text message with Enterprise Bank's SMS Customer Care. SMS Customer Care is one more way Enterprise Bank is providing our customers with assistance. Learn More
Watch Demos
Our online demos guide you through the features and functionality of our Apps. The demos are presented in chapters; simply choose your topic from the list below: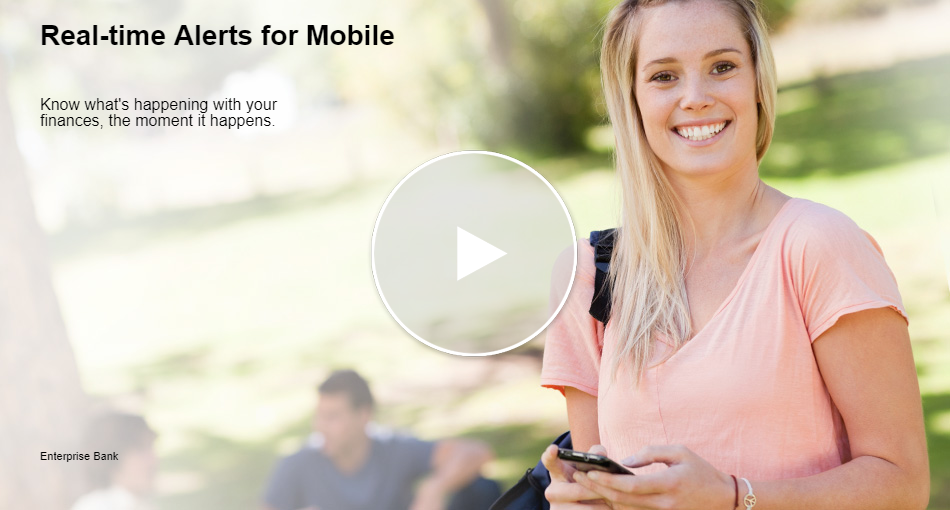 Mobile Card Controls
Smartphone users can further manage the security and activity of their Enterprise Bank Debit Card using Card Controls. Mobile Card Controls are available as a feature within Enterprise Bank's Personal Mobile Banking App.
Turn your card on and off at any time
Set and remove spending limits
Get real-time purchase alerts
Limit transactions to a certain area using your phone's GPS
Restrict transactions based on merchant type
View Personal Mobile Banking product demo to learn more about features that are available directly within Enterprise Bank's Mobile Banking App.
Terms and Conditions are available and accepted upon initial login into the Personal Mobile Banking App and can also be viewed within the App under "Services & Info". Banking fees may apply. Wireless carrier fees and/or data use fees may apply. You may download the Enterprise Bank Personal Mobile Banking App allowing the ability to perform a variety of online banking functions such as: View account balances and transaction history on your checking, savings and loan accounts; Transfer funds between your checking and savings accounts; *Deposit checks using Mobile Deposit feature (deposit limit and other restrictions may apply); Initiate one-time bill payments from a checking account to pre-established payees when enrolled in Enterprise Bank's Bill Pay service; Transfer funds from a checking or savings account to other individuals with a U.S. bank account when enrolled in Enterprise Bank's Zelle service; and Make a payment to your loan account or cash reserve account from a checking or savings account. Enterprise Bank may offer additional mobile banking services and features in the future. Any added mobile banking services and features will be governed by the Terms and Conditions and by any terms and conditions provided to you at the time the new service or feature is added or at the time of enrollment for the feature or service, if applicable.
Apple and Apple Pay are registered trademarks of Apple Inc., registered in the U.S. and other countries. App Store is a service mark of Apple Inc., registered in the U.S. and other countries.
Google and Google Pay are trademarks of Google Inc.
Google Play™ is a registered trademark of Google Inc.
Samsung and Samsung Pay are registered trademarks of Samsung Electronics Co., Ltd.