Celebrating 30 Years in Business
On January 3, 1989, Enterprise Bank opened its doors, dedicated to the deep sense of purpose that still drives us today: serving as a true, independent community bank. It is because of each of you—our team members, customers, shareholders, and citizens—that we stand here today, celebrating 30 years of making a positive difference in our community.
30 Years of Growth
Since our inception, we have achieved incredible and consistent growth and success:
We have expanded from a single office to 24 branches in 19 communities with more than 530 team members.
We have provided over $8 billion in loans to local businesses and non-profit agencies, and home mortgages to individuals and families, helping to create countless new businesses, jobs, and homes.
Our growing insurance and wealth management services provide security, stability, and peace of mind.
30 Years of Independence
Even as we grow and adapt to meet the needs of those we serve, at heart we have always remained—and always will remain—a genuine, independent community bank, locally owned and locally managed.
30 Years of Teamwork
Our people have always been and will always be our biggest asset, and what truly set us apart from other companies. This commitment to our team has been consistently recognized by The Boston Globe in naming us year after year as one of the "Top Places to Work" in Massachusetts.
30 Years of Community
We believe that business should be a force for good, serving a social purpose and operating as conscientious corporate citizens.
We are consistently recognized at the Boston Business Journal Corporate Citizenship Summit for our volunteerism and charitable giving.
We provide financial support and board leadership to more than 100 non-profit organizations.
Our Non-Profit Collaborative provides much-needed support and resources to non-profit organizations.
Our Celebration of Excellence program celebrates and honors the business and community leaders who contribute to our economy and our quality of life.
30 Years of Gratitude
We extend our deepest appreciation to each of you for the trust and confidence you have placed in us and in this enterprise that we have created. In return, we will continue to fulfill our promise to you to adhere always to our founding purpose, mission, and responsibility as an independent, locally owned and locally managed community bank.
We are grateful for the opportunity to serve you and all the communities we call home, and we look forward to the next 30 years. Working together, there is nothing that we cannot accomplish.
With deep gratitude,
George Duncan Jack Clancy Richard Main
Chairman CEO President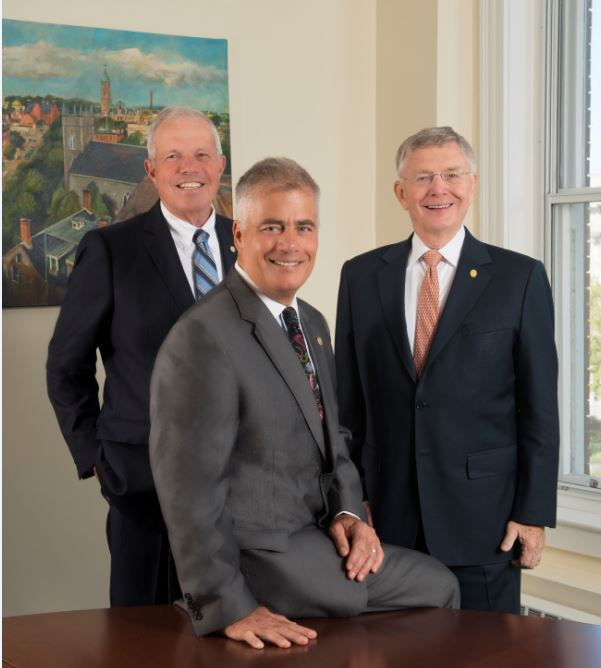 Pictured above, Richard Main, Jack Clancy, and George Duncan.