Accessing Banking Services During COVID-19
UPDATED: November 25, 2020
We are closely monitoring updates and continuing precautionary steps to protect the health and safety of our team members, our customers, and our vendors. We thank you for your patience and understanding as we continue to support social distancing measures. All 25 branch locations are available to help with your banking needs.
Drive-up and Walk-up Services
Drive-up banking from the convenience of your automobile is available at 19 of our branches. Walk-up services are available at our 6 locations that do not have drive-up windows. Please use the links below for additional information.
Massachusetts Drive-up Branches

Drive-up Teller Available

Mon-Wed, Fri: 8:00am-5:00pm; Thu: 8:00am-6:00pm; Sat: 8:30am-12:00pm

ACTON - 340 Great Road 01720 *

ANDOVER - 8 High Street 01810 *

CHELMSFORD - 20 Drum Hill Road 01824 **

CHELMSFORD - 185 Littleton Road 01824 *

DRACUT - 1168 Lakeview Avenue 01826 *

FITCHBURG - 420 John Fitch Highway 01420 *

LEOMINSTER - 65 Main Street 01453 *

METHUEN - 255 Broadway 01844 *

NORTH BILLERICA - 223 Boston Road 01862

TEWKSBURY - 910 Andover Street 01876 **

TEWKSBURY - 1120 Main Street 01876 *

TYNGSBORO - 253 Middlesex Road 01879 *

WESTFORD - 237 Littleton Road 01886

*Drive-up ATM Available 24 Hours

**Walk-up ATM

New Hampshire Drive-up Branches

Drive-up Teller Available

Mon-Wed, Fri: 8:30am-5:00pm; Thu: 8:30am-6:00pm; Sat: 8:30am-12:00pm

DERRY - 47 Crystal Avenue 03038 *
HUDSON - 45 Lowell Road 03051 *
NASHUA - 493 Amherst Street 03063 *
PELHAM - 139 Bridge Street 03076 *
SALEM - 55 Main Street 03079 *
WINDHAM - 15 Indian Rock Road 03087 *

*Drive-up ATM Available 24 Hours

Walk-up Service for Branches Without Drive-up

These branches without Drive-up banking have outfitted their vestibules to accommodate customer transactions. Please call the branch directly to make an appointment. Please note that only one customer at a time will be allowed into the vestibule.

Downtown Lowell – 222 Merrimack Street - 978-596-2261
Lowell Connector – 430 Gorham Avenue - 978-596-2270
Billerica – 674 Boston Post Road - 978-596-2263
Lawrence – 290 Merrimack Street - 978-596-2281
Lexington – 76 Bedford Street, Unit 1 - 978-596-2285
Nashua – 88 Main Street - 978-596-2282
Online and Mobile Apps for Digital Banking
As a reminder, you can conduct various banking transactions remotely from your home or office – 24 hours a day, 7 days a week – with our online and mobile banking options. Features include mobile check deposit, bill payment, person to person payment (personal banking only), and the ability to check account balances and make transfers.
To learn more about our Digital Banking Options, use these links:
To connect to Telephone Banking please call 800-464-2265.
An Appointment with a Banker
All 25 branch locations are open by appointment to help with your banking needs. Please contact the branch directly to make an appointment to visit with a banker. Upon your arrival a team member will provide guidance in the vestibule to be sure we are providing the safest environment for everyone.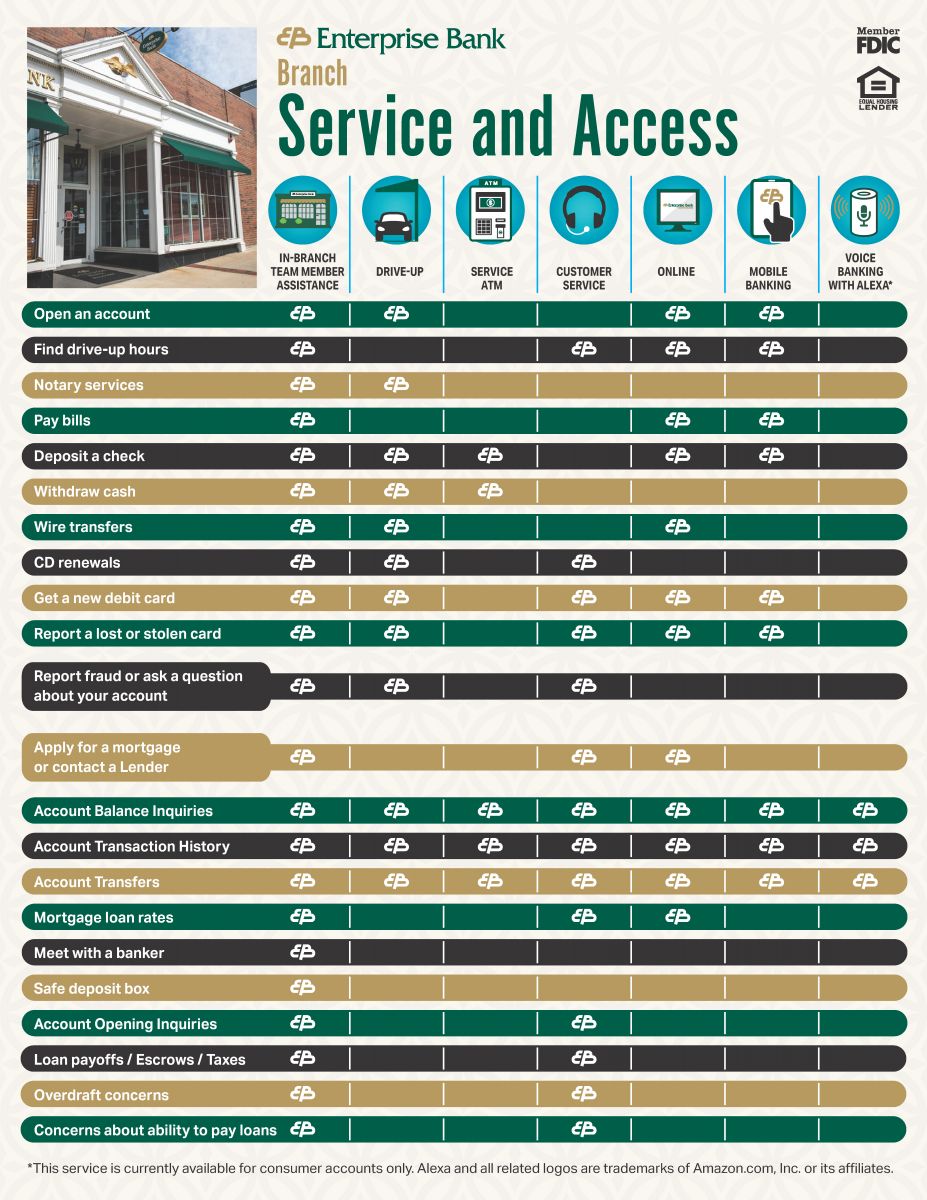 Safety Precautions to Expect when Visiting a Branch Vestibule or Lobby
All customers will be required to wear a face covering. If you do not have a face covering, one will be provided. If you are unable to wear a face covering, we ask that you please use the Drive-up or online banking.
All team members will wear a face covering while interacting with customers.
Please observe and obey physical distancing markers outside and inside the branch. Cones and/or other floor markers will be placed six feet apart to allow proper distancing while waiting to enter the branch or for a transaction.
A team member or security guard will be stationed close to the entrance to allow one customer at a time into the vestibule. Please do not attempt to enter the vestibule if it is already occupied by another customer.
Lobby visits require an appointment. Please call your branch to schedule an appointment. A list of branches and phone numbers can be found here. If you arrive at the branch without an appointment, a sign with the Branch phone number is posted and visible from outside so you can call.
Before entering the branch, you will be asked a series of COVID-19 questions and your visit will be noted in the branch's Visitor Log.
The number of visitors to a branch will be limited and designated customer meeting areas will be disinfected between customers. You may be asked to wait in your car until a customer already in the branch leaves and while we disinfect before your visit. We appreciate your patience and understanding.
Sneeze guards will be in place at teller windows/pods, designated customer meeting areas, lobby desks, and vestibule service counters.