---
As part of our response to COVID-19, please be aware that our hours of operation are subject to change. Before your visit to any of our locations, please check our website for the latest info. Also, a complete list of our nearby branch locations with drive-up banking options can be found when you Click Here.
---
We've got you covered, Tewksbury! We opened the doors to our first branch on Andover Street in September of 1996 and to better serve you, we opened our second branch in Tewksbury Center just 9 years later. Together our two branches have made a great impact on the community of businesses, individuals, and non-profits throughout the town of Tewksbury.
Our branch on Andover Street has a coin counting machine for customers and a walk-up ATM with envelope free deposit abilities. All of our Enterprise Bank branches are open on Saturdays, too. Our branch on Andover Street is open on Saturdays, 9:00 AM - 12:00 PM. Come on over and let us solve your banking needs!
What makes a community bank different?
By choosing Enterprise Bank, you personally add strength and stability to the community where you live and work. The deposits you make at Enterprise Bank become the loans to the businesses that sustain our local economy. These deposits become the funds to provide the mortgages that strengthen and stabilize the neighborhoods in which we all live. Having a strong, local community bank such as Enterprise Bank leads to an unwavering support of the many nonprofit organizations and charities that are so important to quality of life.
Over 30 years in business
More than 30 years ago, George Duncan was an entrepreneur with a dream and the passion to create a new kind of bank, one that deeply values the entrepreneurial spirit and stimulates the local economy by creating new businesses and jobs. Against the backdrop of a severe economic depression, George inspired a group of local visionaries to establish Enterprise Bank. Read our Letter of Appreciation to George.
Through the years, Enterprise Bank has grown and evolved to offer the products, capabilities, and technology similar to that of the "big" banks, while staying true to our community bank values. We will always remain a genuine, independent community bank where we measure our success by individual relationships, not transactions, and by the difference we make in our communities and in the lives of our customers.
We are thankful to be here and warmly welcome the opportunity to discuss your banking needs.
---
See More of our Tewksbury - Andover Street Branch on our Social Media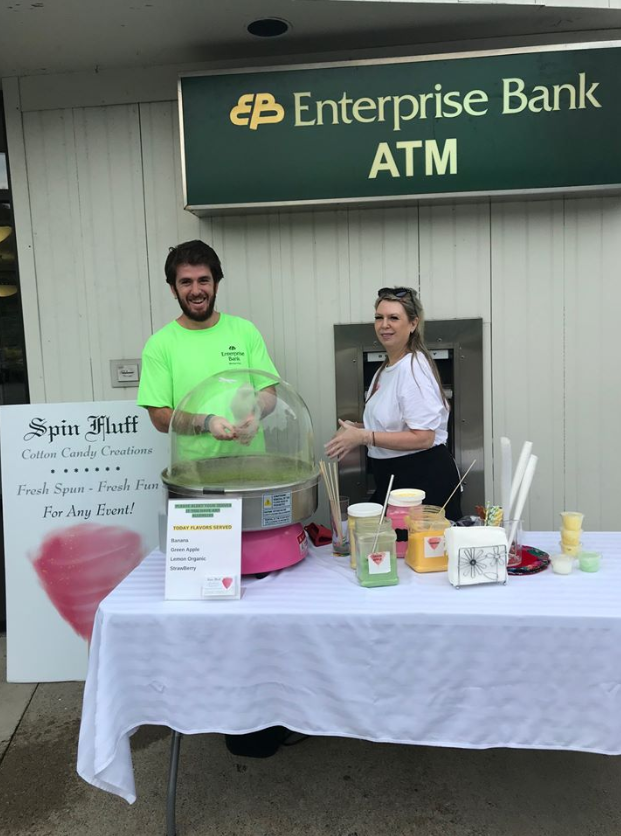 Tewksbury Andover Street team members hosting one of our Enterprise Bank Shred Days, with cotton candy! Click HERE to see!
---
Visit us at our branch!
910 Andover Street, Tewksbury, MA 01876
1120 Main Street, Tewksbury, MA 01876
Or click HERE for information on all of our branch locations.