"You really feel like you're doing work that is meaningful here, and they really make you feel like you're a part of something bigger."

- Ian Gordon, former Intern in the Loan Documentation Department (now Accounting Operations Specialist I)
Enterprise Bank co-ops & internships provide students with the opportunity to flourish by allowing them to showcase their knowledge through hands-on applications in a professional setting. Our co-ops and internships advance students business skills, increase their professional competence and confidence, and give students a competitive advantage.
Cooperative Learning
Enterprise Bank's cooperative learning program gives students an opportunity to receive career training as they work with professionals in their major fields of study. Each year, six-month co-op assignments begin at the beginning of January and again at the beginning of July. In most positions, the co-op is full time, paid employment related to the student's interests and/or career goals. Co-ops give students the opportunity to combine the lessons learned in class with paid practical experience related to their major. Co-op opportunities are posted several months in advance. Check back regularly and apply during our application periods if interested. Check Here
Internships
We accept Undergraduate and Graduate students for full time summer internships each year. Our internships begin in May and end in late August. There are several departments and branches that give students the opportunity to work hands on in a professional environment. As an intern, students gain experience in their field of study to support their academic journey. Enterprise Bank takes pride in offering additional development opportunities for interns through our Intern Development Day workshops, and bank wide networking events. The application process for our summer internships typically begins early in the year.
Enterprise Bank is always searching for motivated and talented candidates looking to contribute to the success of the organization. Based on successful performance and the talent needs of the Bank, several Co-ops and Interns may have the opportunity to become full-time team members of Enterprise Bank. Apply during our application periods to distinguish yourself in your career and from your peers.
Job titles may have changed since the filming of this video.
---
See what former Co-op & Internship students have to say:
Ian Gordon, Jarrett Riel, and Sophia Lupo share experiences and why they chose to work at Enterprise Bank (the above video was created by one of our former marketing co-ops, Sophia Lupo).
---
Click this image for the online PDF version to read a 2022 UMass Lowell Magazine article about our Internship and Co-op Program: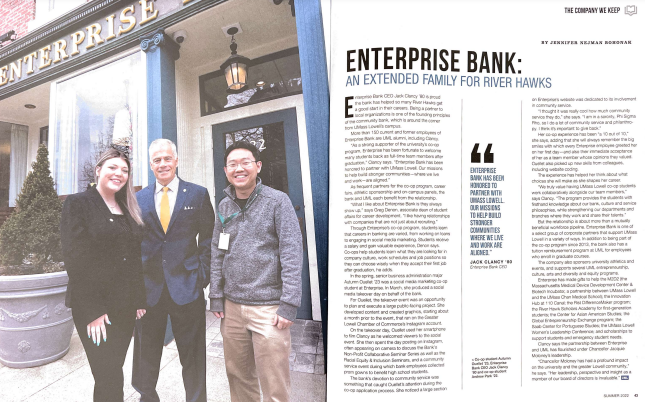 ​
Enterprise Bank is an equal opportunity employer and makes employment decisions without regard to race, color, religion, gender, sexual orientation, age, national origin, genetic information, gender identity, disability, marital status, status as a covered veteran, or any other protected status as defined by applicable state and federal laws. EOE / M/F/Disabled/Vet
Important Notification: Enterprise Bank enters into relationships with certain third parties. Enterprise Bank's employment opportunities and other content are provided by Ultimate Software Group, Inc. ("UltiPro"). We recommend that you review their privacy and security polices at http://www.ultimatesoftware.com/Privacy-Policy.