We Are Here To Work With You
To Our Valued Customers,
These are challenging times and we want you to know that Enterprise Bank is here to work with you. We understand that you may be facing financial hardship and uncertainty due to this unprecedented COVID-19 pandemic. Our bankers are available to review your individual situation and help determine the appropriate solutions.
Please know that as an essential service, Enterprise Bank is open and here to provide the financial services you need through our drive-ups and ATMs, our online and personal mobile and business mobile banking capabilities. Our bankers will continue to deliver the service and advice that you need through email, phone and other electronic means. Enterprise Bank is financially strong, well-capitalized and insured by the Federal Deposit Insurance Corporation (FDIC). We are here to serve you.
As a reminder, your Enterprise Bank debit card is compatible with Apple Pay, Google Pay and Samsung Pay to help make payments safer and easier. If you have any questions, please call 877-671-2265 to be connected to our Call Center.
Enterprise Bank will prioritize and focus on supporting community-based organizations in each of our regions that are serving communities and individuals who are immediately and disproportionately suffering from this crisis.
As a community bank, Enterprise is built on relationships, and we support our customers through good times and bad. Although we may not be able to meet face to face right now, we are fully here for you in other ways. Your well-being is at the forefront of every decision we make, and we will navigate through this crisis together.
Sincerely,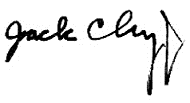 Jack Clancy
Chief Executive Officer
Enterprise Bank